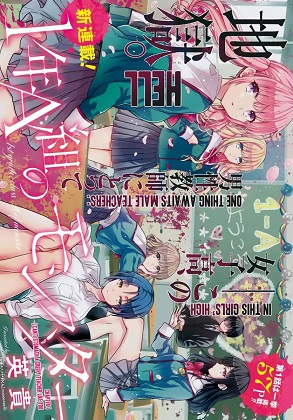 1-nen A-gumi no Monster, 1st grade, class A of monsters, The monster of 1st grade, class A.
1-nen A-gumi no Monster
2018
ON-GOING
Hideki
Hideki
Right(→) to Left(←)
Manga Description
A Private Girls' High is an uncommon school supporting youthful ladies to be agile, fragile learned people. Anyway Class 1-A, scandalously known as the "Class of Monsters," is brimming with menaces, blackmailers, plotting perverted people, and other agitators. Inside seven days, each educator who has shown this class has either stopped, surrendered, or even been detained. The forgettable Jimi Tarou will cut out his name and become an amazing instructor.
| | | |
| --- | --- | --- |
| Chapter 1 | 2019/03/24 | Download |
| Chapter 2 | 2019/03/25 | Download |
| Chapter 3 | 2019/03/25 | Download |
| Chapter 4 | 2019/03/25 | Download |
| Chapter 5 | 2019/03/25 | Download |
| Chapter 6 | 2019/03/25 | Download |
| Chapter 7 | 2019/03/25 | Download |
| Chapter 8 | 2019/03/25 | Download |
| Chapter 9 | 2019/03/25 | Download |
| Chapter 10 | 2019/03/25 | Download |
| Chapter 11 | 2019/03/25 | Download |
| Chapter 12 | 2019/03/25 | Download |
| Chapter 13 | 2019/03/25 | Download |
| Chapter 14 | 2019/07/11 | Download |
| Chapter 15 | 2019/07/11 | Download |
| Chapter 16 | 2019/07/11 | Download |
| Chapter 17 - Sensei you dont hate me do you? | 2019/09/30 | Download |
| Chapter 18 - Sensei, what can I do? | 2019/10/06 | Download |
| Chapter 19 - You Scared Sensei? | 2019/11/19 | Download |
| Chapter 20 - Sensei, do you know what black lilies represent? | 2019/12/31 | Download |
| Chapter 21 - Don't You Understand...? | 2020/05/29 | Download |
| Chapter 22 - Sensei, It's A Jam? | 2020/05/29 | Download |
| Chapter 23 - Sensei, I don't Want To Be Involved Anymore | 2020/05/29 | Download |
| Chapter 24 - Sensei, After All, We're The Same | 2020/07/13 | Download |
| Chapter 25 - Sensei, Can You Save Her? | 2020/08/19 | Download |
| Chapter 26 - Sensei, It's Hard, Isn't it? | 2020/09/29 | Download |
| Chapter 27 - If this didn't happen... | 2020/12/06 | Download |
| Chapter 28 - Sensei, Are You Hiding Something? | 2021/01/24 | Download |
| Chapter 29 - Sensei, Were You Always This Useless? | 2021/03/18 | Download |
| Chapter 30 | 2021/07/17 | Download |
| Chapter 31 | 2021/07/23 | Download |
| Chapter 32 - Sensei, Please don't run | 2021/07/25 | Download |
| Chapter 33 | 2021/07/26 | Download |
| Chapter 34 | 2021/08/01 | Download |
| Chapter 35 | 2021/08/17 | Download |
| Chapter 36 - Sensei, shouldn't we fight? | 2021/08/21 | Download |
| Chapter 37 - Sensei, It's a secret | 2021/08/24 | Download |
| Chapter 38 | 2021/08/26 | Download |
| Chapter 39 - Little Bit of a Demon | 2021/09/05 | Download |
| Chapter 40 - Sensei Should I Quit? | 2021/09/09 | Download |
| Chapter 41 - Sensei, I don't want to quit after all! | 2021/09/15 | Download |
| Chapter 42 | 2021/10/31 | Download |
| Chapter 43 | 2021/12/06 | Download |
| Chapter 44 - Can You Pretend This Never Happened? | 2022/01/06 | Download |
| Chapter 45 - It's Been A While Sensei | 2022/02/08 | Download |
| Chapter 46 - Sensei, Is This Your Everyday Life? | 2022/03/02 | Download |
| Chapter 47 - Sensei, We're Worried. | 2022/06/27 | Download |
| Chapter 48 - Sensei, don't you trust me? | 2022/07/08 | Download |
| Chapter 49 | 2022/07/08 | Download |
| Chapter 50 - If only I could pretend none of it ever happened | 2023/03/18 | Download |
| Chapter 50a | 2023/03/19 | Download |